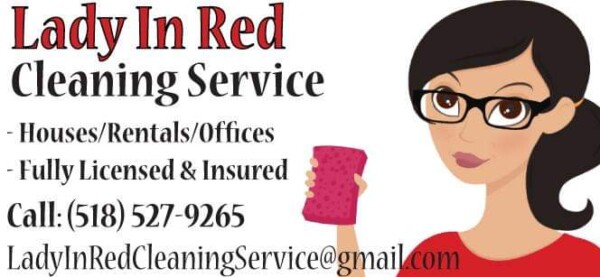 Lady In Red Cleaning Service provides safe and reliable cleaning for houses, apartments, rentals, condos, RV's, campers, office/commercial and post construction.  Serving Albany, Greene, Columbia and Ulster Counties. References available upon request.  Call today to schedule an on site estimate!
Attention Condo/Rental Person's ALIKE!
With ski season coming to a close in our area soon, I offer a "season end" deep clean.  This includes cleaning of all areas, bedrooms, bathrooms, bedding/towels, windows, cabinets, inside/outside of all appliances, fireplaces, etc.  Bookings begin April 1st, call today to get an estimate and get your spot!
🔨Attention Contractors
Are you looking for a professional cleaning of your new construction or renovation project?
Lady In Red Cleaning Service can provide you with post construction clean up! This service includes cleaning of all surfaces, floors, windows, moldings, appliances, cabinets, bedrooms/bathrooms, finished basements, etc. Top to bottom! Have your new or renovated projects "move in" and "real estate ready"!! Call today for pricing: 518-527-9265