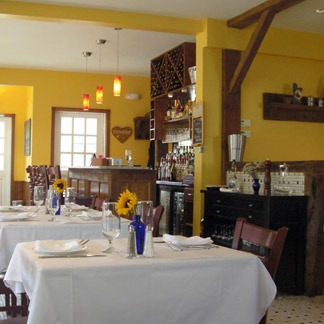 Zagat rated. Best of the Hudson Valley 2007 through 2010. A French Country Bristro in the Great Northern Catskills serving award-winning dinner menu, with the best selection of wines. Fine art adorning walls, French music and jazz, and a French Country ambiance.
Everything! It's the fresh food humbly prepared with the freshest ingredients. It's the wine and the cheese and the bread. It's the butcher block paper on the tables, the sunflowers in blue vases, the music, the art, the love of food and cooking, the love of life and the beautiful country that inspires us every day.
Owners Stéphane and Claudia Desgaches combine their talents to create their French Country Bistro in the heart of the Catskills.