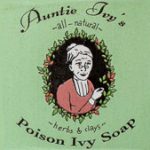 Auntie Ivy's Poison Ivy Soap contains the simplest of ingredients: lye, high-quality vegetable oils, plant extracts, and clay. 
There are no added fragrances or colorants, just the old-fashioned smell of homemade soap, and the natural clay colors of the earth.
These plant extracts and clays have been used for generations to soothe and heal the poison rash.
Because this is a super-fat soap (containing more fats than are necessary in the saponification process), it is luxuriously moisturizing, with an excellent lather. It can be used as an old-fashioned garden soap, a pretty guest soap, a kitchen sink soap, a baby soap…
Or, it can be used on poison ivy rashes at any stage.*
We recommend soaping up, rinsing, then lathering again, and letting it sit. We think that the clays — which are said to be effective at pulling toxins out of the skin — draw the oils out from within the epidermis. After a few minutes, rinse and wipe dry with a clean cloth. Repeat as needed.
(*FDA regulations prohibit us from making claims about a soap that has not been tested as a medicine.)
Find Us At: Clearwater Festival