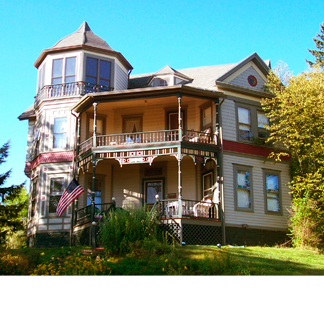 Our beautiful three story 1893 Queen Anne Victorian home is a Registered Historic Site, nestled in the Catskill Mountains on five lush acres of property where wildlife abounds.
Enjoy a delicious homemade breakfast prepared with fresh, local ingredients. Breathe in the fresh air and stunning views of the Catskills from our front porch. Enjoy a stroll in our backyard (complete with hammocks, gardens, and secret waterfalls), or a dip in our outdoor hot tub. At night view the breathtaking wall of stars that sparkle in the sky.
Our main B&B building has six guest rooms and one suite, and can accommodate 16+ people. Guests also enjoy access to a large common area (dining room, living room, parlor), with refreshments available at all times and a large collection of movies, games, and books to borrow.
We also have a self-catering vacation rental nearby called the Hudson Hollow. It offers three bedrooms, a full kitchen, dining room, living room, and deck overlooking the backyard, and can sleep 6-8+ guests. Perfect for groups or large families on vacation.
Both properties are conveniently located near excellent hiking, skiing, and other outdoor adventures, as well as great art & music venues, shopping, and restaurants. Just minutes from beautiful downtown Windham.
Windham Chamber of Commerce